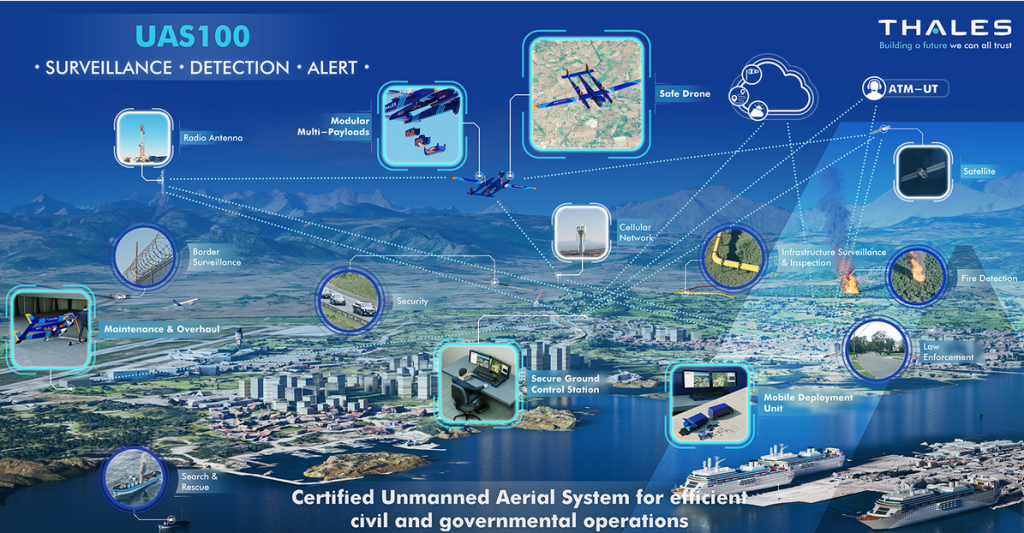 The UAS100 is the first regulatory-compliant drone from Thales to provide a safe and secure solution with limited environmental impact for surveillance and inspection needs. It has been designed for long-range civilian and government applications.

The UAS100 long range drone draws from Thales's expertise in aerospace technology, making it an ideal solution for many applications such as coastal & border surveillance, law enforcement security, linear infrastructure, windmill, solar panel and pipeline inspections.
The UAS100 meets the most stringent mission requirements in full compliance with general aviation BVLOS regulations. Its flight avionics combine the certified levels of flight safety and security that Thales offers to the traditional aviation sector with the low weight and compact design needed to integrate for integration on board small drones.
For more information:
YouTube presentation: https://www.youtube.com/watch?v=-411qPMI1SY
Thales website: https://www.thalesgroup.com/en/uas100-long-range-surveillance-drone