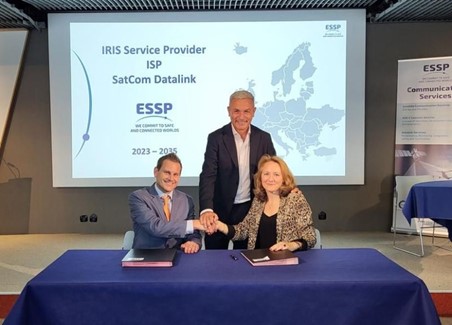 ESSP (European Satellite Services Provider) has signed a long-term contract with Viasat to become Iris Service Provider operating, providing and leading the Iris programme to European Air Navigation Service Providers (ANSPs).
Iris Air Traffic Management (ATM) programme led by the European Space Agency (ESA) is a key component of modernising and digitalising the aviation industrial. Iris satellite data communication technology enables air traffic controllers to manage the skies more efficiently using a high bandwidth satellite datalink between the aircraft and the ground which minimises flight delays, save fuel and reduces the environment impact of air travel.
Viasat, global communication company which has acquired business Inmarsat last May, is working on the final phase of pre-commercial operations for this ground-breaking programme and preparing for the start of commercial service over the next year.
Besides, ESSP will be the first Pan-European company certified for satellite-based communication service by the European Aviation Safety Agency (EASA).
Charlotte Neyret, CEO of ESSP, announced: "ESSP strongly believes in Iris as a pioneering Europe-wide satellite communications data link programme and we are committed to developing, operating, and commercialising it for Europe at this early stage. ESSP is proud to contribute as a service provider to the expansion of Iris technology".
For more information, visit ESSP website: https://www.essp-sas.eu/communication/news/green-deal-european-aviation-essp-and-viasat-seal-agreement-commercialise-iris-air-traffic-programme/