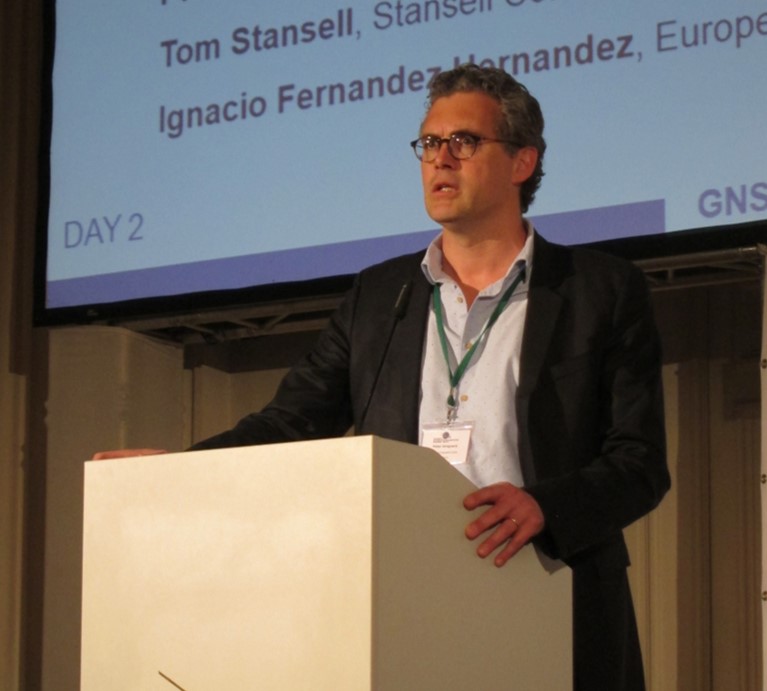 Galileo Services organised a roundtable at the Munich Satellite Navigation Summit entitled "The position of the GNSS downstream industry worldwide on the emerging GNSS application markets".
"Some GNSS application markets can be considered as mature markets, others are emerging and others can even be considered as futurist, such as UAVs or some applications of the Internet of Things. Old products disappear as a result of obsolescence, new products appear as a result of technological progress. Which are the emerging GNSS applications being developed in the different regions of the world? Which are the key players on these emerging GNSS application markets? Which are the main barriers for industry to entry into the different emerging GNSS application markets?"
The roundtable was chaired by Mr Peter Grognard, Vice-Chairman of Galileo Services. Distinguished panellists included:
Bruno Bougard, R&D Manager, Septentrio Satellite Navigation, Leuven, Belgium
"Emerging GNSS applications need dependable accuracy"
Neil Gerein, Segment Manager, Defence & NAVWAR, Novatel Inc., Calgary, Canada
"Accuracy, Availability, Assurance"
Lionel Garin, Director Technology, Qualcomm Inc., Santa Clara, CA, USA
"GNSS Mass market Paradigm Shift for UAVs' and ADAS Applications"
Prof. Philip Mattos, Positioning Technology Expert, u-blox UK Ltd, Reigate, UK
"GNSS emerging in automotive from eCall to ADAS"
Tom Stansell, Stansell Consulting, Consultant to The Aerospace Corporation, Rancho Palos Verdes, CA, USA, "In Praise of Geometry"
Ignacio Fernandez Hernandez, Manager and design lead, Galileo Commercial Service, DG ENTR, European Commission, Brussels, Belgium, "Galileo as an Enabler of Future Applications".