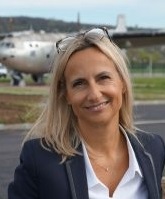 On 10 December 2021, Mrs Daniela Genta, from Airbus Defence and Space, was elected Vice Chairman of Space Y by the association general assembly. She succeeds to her Airbus colleague, Mr Olivier Colaitis, who retired earlier this year.
Daniela Genta looks back at 24 years of experience in business development, policy and regulation in the space sector.
Daniela is specialised in market access strategy for new satellite based services and radio spectrum policies for communications systems. She started her career with Eutelsat in Paris positioning the company as a private satellite operator with the European Union and the National Administrations.
After leading the public affairs team of Solaris Mobile in Dublin, Daniela joined Thales Alenia Space international business development.
In October 2013 she joined Airbus and led the group spectrum management activities until 2018.
Daniela is today Airbus Defence and Space Lead Key Account Manager for EU and delegated Agencies for Space and Security businesses. She has a proven track record of effective advocacy with national and European officials, collaboration with industry representatives on European public policy and EU funding leveraging deep industry expertise to achieve results with practical impact.
Daniela is Airbus representative at Eurospace Policy Committee and used to chair the ESOA (EMEA Satellite Operators Association) Regulatory Working Group.
Ms. Genta graduated in International Law from La Sapienza in Pisa in 1995, has a post graduate degree in International Trade Law from the University of Torino and a MSS degree from the International Space University in Strasbourg.
Daniela is savvy to multicultural working environments, flexible and customer driven.